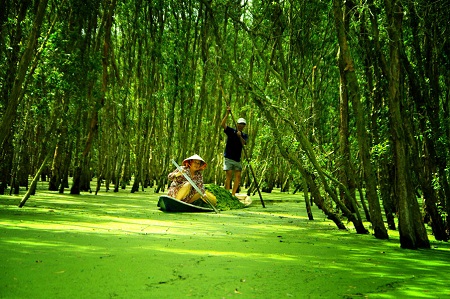 Mekong delta is made up of 13 provinces: Long An, Tiền Giang, Bến Tre, Hậu Giang, Kiên Giang, An Giang, Đồng Tháp, Trà Vinh, Sóc Trăng, Vĩnh Long, Cần Thơ, Bạc Liêu and Cà Mau
And Mekong delta is divided by many rivers and canals. And all the rivers and canals are 5.700 km.
Mekong delta is about 40.000 square kilometers (km2) in area. And it is known as one of the widest and richest delta in ASEAN, in Vietnam it is considered as the biggest granary of Vietnam (the second one is Red River delta in the North of Vietnam), it provides 60% of nation's rice. Besides that, Mekong delta is the place of different tropical fruits such as durian, coconut, banana, pineapple, dragon fruit… and when people come here they can enjoy the seasonal fruits all round year.
Mekong delta is the area which has the biggest population in Vietnam, now it has a population of  about 18 million people. In the past, most of the people here lived by farming.
There are 2 distinguished seasons in Mekong delta: rainy season (from May to November) and sunny season (from December to April). Especially, in the rainy season the color of all the rivers are brown because of the alluvium, in the sunny season the color changes into light blue.
In Vietnam, people don't call this land "Mekong delta", but they call "Nine dragons delta" because when the Mekong river comes to Vietnam, it divides into 2 small branches, then the 2 branches divide into 9 mouths going to the East Sea. Seeing on the map, people can realize that the river now looks like 9 dragons
Don't leave without seeing the Mekong Delta, one of Vietnam's most interesting and scenic regions. An organized tour, even the most low-budget version, offers action-packed days with bus and boat trips to small craft villages, mangrove swamps, island orchards, and spectacular floating markets. A 1-day trip isn't quite enough to fully delve into the delta, so plan on an overnight — best in the delta's urban centers of Can Tho or Chau Doc near Cambodia (try to stay at the Victoria in either location).
The delta is a web of Mekong River waterways covering an area of about 60,000km (37,200 miles) across three provinces. The region is densely populated with 18 million souls, most engaged in farming and fishing. Called the "rice basket" of Vietnam, the Mekong Delta accounts for more than 50% of all rice and produce in the country, exporting between 4 million and 5 million tons of rice per year. The land is tessellated with bright green rice paddies, fruit orchards, sugar-cane fields, and vegetable gardens, and its waters stay busy with boats and fish farms. Rice production and harvest still involves water buffaloes instead of tractors, as well as backbreaking hand planting of rice shoots, weeding, and hand harvesting.
Impoverished under socialist agricultural programs, the region benefited greatly from the 1980s Doi Moi reforms, and rice paddies that once yielded just one crop now produce three crops per year, an important part of Vietnamese economic self-sufficiency.
 The Mekong delta was a hotbed for Viet Cong guerillas during the war with the U.S., and some tours will take you to the vestiges of old Viet Cong hide-outs, complete with hideaway ambush holes and a ride among the mangrove swamp where stealth forces disappeared after raids in Saigon.
| | |
| --- | --- |
| Country | Vietnam |
| Languages spoken | Vietnam |
| Currency used | VND |