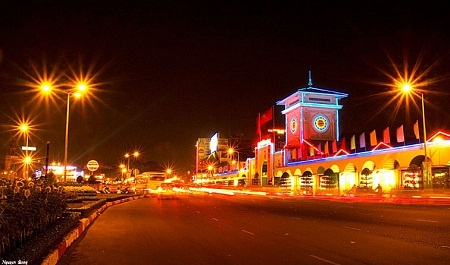 Hold on – Ho Chi Minh City is a metropolis that is going places. It's the flourishing fast-mover that's somehow secured old Saigon onto the seat of its shiny, new motorbike as it roars off into the future.
It's the mesmerising gateway to Vietnam where traditional and modern influences live side by side. High-rise buildings loom over shabby French colonial villas; conical-hatted street vendors plod past karaoke bars and glitzy shops.
Like the bamboo, shoulder-pole baskets you'll see on the streets, Ho Chi Minh City is a balancing act of two parts: classical incense-filled pagodas are off-set by shopping malls and skyscrapers that wouldn't look out of place in the West.
It's a forward-looking city but still locals refer to it as Saigon, a name evocative of the past. One of the most poignant symbols of this is the Reunification Palace, where the last days of the Vietnam War were played out.
Its story, however, was penned long before the American army waded in. Just wander around the beautiful Jade Emperor Pagoda, built by the Chinese in 1909, or search out Saigon Central Post Office for some grandiose French architecture.
Few visitors get further than Districts 1 and 3, home to the Independence Palace, Notre Dame Cathedral and Ben Thanh Market, but rambling Binh Tay Market in Cho Lon (Chinatown) is worth discovering too. For a total contrast head out to Phu My Hung, known as South Saigon, where you will find wide streets, smart villas, condominiums and manicured parkland that appear to have been transplanted from California.
Elsewhere, pavements teem with street vendors, barbers and dentists. Families perch on tiny plastic chairs tucking into bowls of pho. Roads bawl with a solid phalanx of two-wheeled traffic; bikes piled high with furniture and livestock.
Whatever you want, this incredible metropolis can deliver. Haggle hard in the markets or get measured up for custom-made clothes. Sip champagne cocktails with skyline vistas or swig cold Bia hơi (beer) from side street sup houses. Stay in grand international hotels or hide away in backpacker boltholes. Ho Chi Minh City is the face of new Vietnam and she's ready to show it off
| | |
| --- | --- |
| Country | Vietnam |
| Languages spoken | Vietnam |
| Currency used | VND |