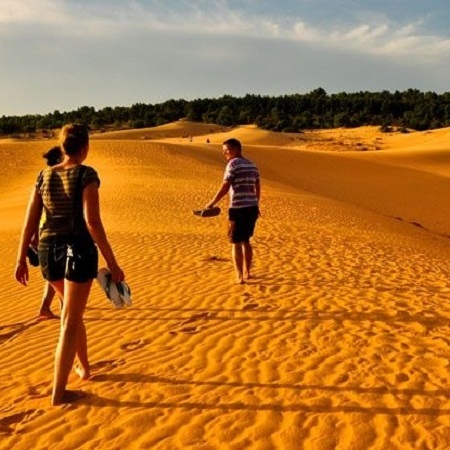 Once upon a time, Mui Ne was an isolated stretch of beach where pioneering travellers camped on the sand in the early 1990s, but it was too beautiful to be ignored. Times have changed and it is now a string of resorts, expanding in number every year. However, the beach retains much of its charm and the resorts are, for the most part, mercifully low-rise, set amid pretty gardens by the sea. The original fishing village is still here, but tourists outnumber locals these days. Mui Ne is definitely moving upmarket, as more exclusive resorts open their doors, complemented by swish restaurants and swanky shops, but there is still a (kite)surfer vibe to the town.
Mui Ne is the adrenalin capital of southern Vietnam. There's no scuba diving or snorkelling to speak of, but when Nha Trang and Hoi An get the rains, Mui Ne gets the waves. Surf's up from August to December. For windsurfers, the gales blow as well, especially from late October to late April, when swells can stir things up big-time. Kitesurfing has really taken off and the infinite horizon is often obscured by dozens of kites flapping in the wind. If this all sounds too much like hard work you can simply lounge around on the beach, watching others take the strain.
Mui Ne sees only about half the rainfall of nearby Phan Thiet. The sand dunes help protect its unique microclimate, and even during the wet season (from June to September) rains tend to be fairly light and sporadic.
One major problem the area faces is the steady creep of coastal erosion. Many resorts north of Km 12 have almost completely lost their beaches and rely on sandbagging to keep the little they have left.
Road safety is another serious issue. There are no traffic-calming measures along the main coastal road, and speeding cars and trucks have little regard for pedestrians. Take care.
It's almost impossible to get lost in Mui Ne, as everything is spread out along a 10km stretch of highway. Most accommodation lines the beach side, while restaurants and shops flank the other.
| | |
| --- | --- |
| Country | Vietnam |
| Languages spoken | Vietnamese |
| Currency used | Viet Nam Dong (VND) |