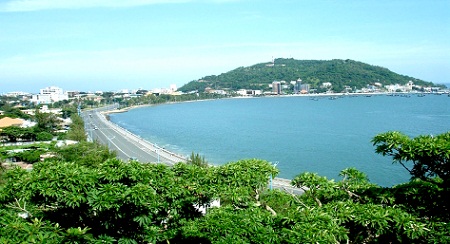 Vung Tau (Vũng Tàu) is a city in Southern Vietnam. It is 125 km (about 77 miles) from Ho Chi Minh City, and is a popular destination for weekend trips from Ho Chi Minh City.
Understand
Vung Tau is the tourist and commercial center of Bà Rịa – Vũng Tàu (an industrial province in Southeastern Vietnam). The whole city area lies on a peninsula which is separated from the mainland by a gulf river called Co May river.
History
During 14th and 15th centuries, the cape that would become Vũng Tàu was an area which European trading ships visited regularly. The ships' activities inspired the name Vũng Tàu, which means "ship's bay" or "anchorage" in Vietnamese. Portuguese navigators who passed Vũng Tàu many times named it Sant'Iago after Saint James. The French, who invaded and took over Vietnam in the mid-19th century named it Cap Saint Jacques (Cape St. James.) The cliff of Vũng Tàu is now called Mũi Nghinh Phong (literally means "Cape of greeting the wind").
Vũng Tàu was originally referred to as Tam Thắng ("Three Boats") in memory of the first 3 villages in this area: Thắng Nhất, Thắng Nhị, Thắng Tam. It was within the province of Biên Hòa under the Nguyen dynasty, the last imperial house to rule Vietnam.
February 10, 1859 marks the date of the use of cannons by the Nguyen armed forces against the French when they fired at the French battleships from the fortress of Phước Thắng, located 100 m from Vũng Tàu's Front Beach. This marked an important period in Vietnam's war against French invaders in the Southern most part of Vietnam (then called Cochinchina). Nevertheless, the French succeeded in conquering the southern part of Vietnam by 18 February 1859.
In 1876, according to a decree by the French colonialists, Vũng Tàu was merged in Bà Rịacounty, a part of Saigon administration (French: Circonscription De Saigon).
On 1 May 1895 the governor of Cochinchina established by decree that Cap Saint Jacques would thereafter be an autonomous town. In 1898, Cap Saint Jacques was merged with Ba Ria County once again but was divided again in 1899.
In 1901, the population of Vũng Tàu was 5,690, of which 2000 persons were immigrants from Northern Vietnam. Most of the town's population made their living in the fishing industry.
On 4 April 1905 Cap Saint Jacques was made an administrative district of Ba Ria province. In 1929, Cap Saint Jacques became a province, and in 1934 became a city (commune).
The French governor of Indochina, Paul Doumer (who later became President of France), built a mansion in Vũng Tàu that is still a prominent landmark in the city.
During the Vietnam War (called the American War in Vietnam), Vũng Tàu was home to the Australian Army and American support units, and was a popular spot for in-country R&R for U.S. combat troops. After the war, Vũng Tàu was a common launching place for the Vietnamese Boat People fleeing the new regime.
On 30 May 1979, Vũng Tàu town was made the capital of Vũng Tàu-Côn Đảo Special Admistrative Zone.
On 12 August 1991, the province of Bà Rịa-Vũng Tàu was officially founded and Vũng Tàu town officially became Vũng Tàu city.
Economy and society
The city is located in the southern part of Vietnam, and is situated at the tip of a small peninsula. It has traditionally been a significant port, particularly during Vietnam's period of French rule. Today, the city's importance as a shipping port has diminished, but it still plays a significant role in Vietnam's offshore oil industry. Vung Tau is the only petroleum base of Vietnam where crude oil and gas exploitation activities dominate the city's economy and contribute principal income to Vietnam's budget and export volume.
Vũng Tàu is home to 210,000 people, of which 1250 are Russians working as specialists in the oil industry.
Phu My Port is a deep-water port able to accommodate ships ranging between 40,000 and 60,000 dwt.Phu My is a commercial port with no towns nearby. A shuttle may be provided to the small town of Ba Ria where you can take a taxi to a larger city like Vung Tau.
Climate
Located in Southern Vietnam, Vũng Tàu has only two seasons in a year :
Dry season (November – April): dry and slightly cooler during winter months and around Tết Holiday. Gets hotter in April.
Rainy season (May – October): rainy, but less than Ho Chi Minh City. Usually hot at noon till 3PM. Summer is ideal for sea bathing.
Get in
Thanks to recent development in road infrastructure in Southeastern Vietnam, transportation to Vũng Tàu has been much easier. From Ho Chi Minh City, one can get to Vung Tau in three ways.
By plane
Tan Son Nhat International Airport (IATA: SGN ICAO: VVTS) located in Ho Chi Minh City, provides the closest air link to Vũng Tàu. The nation's largest airport, the airport has two terminals: an old functional Domestic terminal and a shiny, pleasant International terminal located just 200 metres away. Both terminals have limited food and services offerings. To get to the City centre, passengers can take either a bus or a taxi.
For details, read Ho Chi Minh City#Get in
Direct transfer to Vung Tau
A number of chartered bus companies offer direct transfer from Tan Son Nhat Airport to Vũng Tàu. This is very useful for Vũng Tàu locals. However, tickets must be booked in advance.
By road
Vũng Tàu is well-connected to nearby provinces via the National highway network. If you have your own wheels, there are various options to travel to Vũng Tàu. From Ho Chi Minh City, one can get to Vũng Tàu via Route 1 (Quốc lộ 1) and Route 51 (Quốc lộ 51), about 125km or 2 hrs 30 mins. Alternatively, you can take the other route via Cát Lái Ferry and Nhơn Trạch District of Đồng Nai Province before connecting Route 51. In addition, the newly-inaugurated Ho Chi Minh City-Long Thành-Dầu Giây Expressway for a shorter ride.
Caution: Although road condition is no longer a problem due to effective renovations, the speed limit is still in force in several parts of the Highways (Routes 51, 55, 56) and the Expressway. According to Ministry of Transport Circular no. 13/2009/TT-BGTVT, vehicles with less than 30 seats must not run faster than 40-50 km/h in urban areas (including residential areas along the highway) and 70-80 km/h in the countryside.
From Ho Chi Minh City
1. Ho Chi Minh City to Vũng Tàu via Biên Hòa: The most traditional and convenient way to get from Ho Chi Minh City to Vũng Tàu before the Expressway was launched. Take Hanoi Road (Xa lộ Hà Nội) and Route 1 (QL 1) towards Biên Hòa. After crossing Đồng Nai Bridge, turn right at the first major roundabout (Ngã ba Vũng Tàu). Follow Route 51 all the way to Vũng Tàu. It's 125 km long, about 3 hours.
2. Cát Lái Ferry shortcut: If you're riding a motorbike, or want to have more cool breeze from the countryside forests in Đồng Nai, consider taking this route. Leave the City centre via the Saigon River Tunnel (or Phú Mỹ Bridge in further south of the City). Connect to Đồng Văn Cống Road, and Nguyễn Thị Định Road towards Cát Lái Ferry Terminal. Allow 10 mins for the ticketing, queueing and crossing the river. When your arrive on the Đồng Nai side, follow Provincial Route 769 (ĐT 769), Trần Văn Trà, Quách Thị Trang and Tôn Đức Thắng Roads before connecting to Route 51 (QL 51, AH17). Turn right at the corner.
This takes between 2hrs and 3 hrs to get to Vũng Tàu, depending on the weather. Also, due to the Expressway's inauguration, most cars have bypassed the Ferry, and long queues have disappeared.
3. Expressway: If you just want to get there fast, use the HCMC-Long Thành-Dầu Giây Expressway before connecting to Route 51 in Long Thành Town. The section between HHCMC's District 9 and Long Thành was opened in 2013, about 30 km and 1 hr shorter than Option 1. However, the link to the HCMC end of the Expressway is in bad conditions. However, the view of the remote countryside is very gigantic.
From nearby provinces
From Bình Dương Province and Đồng Nai's Biên Hòa City and Long Thành Town, passengers may travel all the way via Route 51.
From Đà Lạt and middle regions of Đồng Nai Province, one may take the Route 56 at Long Khánh Town. Follow the way tthough Bà Rịa City before connecting to Route 51.
From Phan Thiết/Mũi Né in eastern Bình Thuận Province, one may enter BR-VT Province via Route 55 (at Hàm Tân District or La Gi Town). Follow the main course through various town centres towards Bà Rịa City. Alternatively, you can take the picturesque Coastal Road at Bình Châu Commune, Xuyên Mộc District, BR-VT.
By bus
There are several bus stations and companies which handle short-distance and long-distance bus services to Vũng Tàu.
Warning, there are many small vans that travel from HCMC to Vung Tau and back but they can be dangerous. I recently took three trips back and forth using Thien Phu Company. All the drivers were texting and constantly on their cellphones. One driver had to be woken up twice and was doing Red Bull to try and stay awake. Additionally, they are delivering mail and packages along the route that can add 30 to 45 minutes to the trip.
Miền Đông Bus Station
The main terminal for coach services heading Northern and Central Vietnam. To get there, take metro bus no. 19 from the Central Metropolitan Bus station (opposite Bến Thành Market). The whole journey takes 25-35 mins, depending on traffic conditions. The bus will drop you at the metro bus parking in front of the Main door of the terminal building.
Kumho Samco Buslines

,

Zone 7, Miền Đông Bus Station

, ☎

+84 8 5 111 111

, [1].

04:30am – 07:45pm

.

To/From HCMC(Saigon). Departs every 10-15 minutes.

100,000 VND (price on Jan 2012)

.  edit
Previously known as Rạng Đông Company, the firm is now co-shared by Kumho Samco Joint-ventures. Here is the website [2]. When you enter the bus station's main door, the Kumho Samco booth is on the right side. Comfortable 16-seat cars with air-conditioners, 45-seat buses are put in use on weekend. New trip runs every 15 minutes. It has one rest stop on half-journey. Duration : 2 hours. Water bottle and wet tissue provided.
The company also serves Buon Ma Thuot, Pleiku and Kontum.
Thiên Phú

,

292 Đinh Bộ Lĩnh, Bình Thạnh District, [[Ho Chi Minh City]]

(

Miền Đông Coach Station

).

95,000 VND (price on June 2014)

.  edit
Similar to Kumho Samco but with larger cars. New trip every 15 minutes. Thiên Phú is a privately-owned firm. Offer 16-seater cars with slightly larger foot rest.
"'Mai Linh Express"'

,

292 Đinh Bộ Lĩnh, Bình Thạnh District, [[Ho Chi Minh City]]

(

Miền Đông Coach Station

).

90,000 VNĐ (price on Jan 2013)

.  edit
Reliable inter-provincial bus service in Vietnam, esp. Southern Vietnam. Operates every 30 minutes. The journey from the bus depot in Ho Chi Minh City to the bus depot in Vung Tau takes approximately 2.25hrs during the day. A bottle of water is provided to every passenger. Mai Linh provides free shuttle from its private stations in Miền Tây Bus station, mid-city Lê Hồng Phong Street and Phạm Ngũ Lão Street.
City centre and Phạm Ngũ Lão
Hoa Mai Tourist

,

44 Nguyễn Thái Bình Street, District 1, [[Ho Chi Minh City]]

(

From the intersection behind Central Metropolitan Bus station opposite Bến Thành Market, walk to Phó Đức Chính Street, and turn left at the second corner

), ☎

+84-8-3821 8928

.

4am – 7pm

.

95,000 VNĐ

.  edit
New bus departs every 10 mins. Comfortable 16 seater bus. Seats are reserved by telephone only. If you are in Vung Tau, you are picked up wherever you want. Most buses run via the Expressway. It takes approximately 1 hr 30 mins.
Thiên Phú

,

88 Lê Thị Hồng Gấm Street, District 1, [[Ho Chi Minh City]]

(

From the intersection behind Central Metropolitan Bus station opposite Bến Thành Market, walk to Phó Đức Chính Street and turn right at the first corner

), ☎

+84-8 62 788 878

.

4am – 7pm

.

95,000 VNĐ

.  edit
Futa Buslines (Phương Trang)

,

205 Phạm Ngũ Lão Street, District 1, [[Ho Chi Minh City]]

.

4am – 6pm

.

115,000 VNĐ

.  edit
By Hydrofoil
Beginning January 2014 all Hydrofoil service to Vung Tau has been stopped due to unsafe boats.
"Tàu cánh ngầm" aka "Hydrofoil fast ferry" in Vietnam is a quick way to get to and from Vũng Tàu. Taking the Hydrofoil is a good way to see the commerical maritime areas as the boat runs through the Saigon River to the sea. After one hour and 15 minutes, Vũng Tàu peninsula appears with its two mountains (conveniently called "Big Mountain" and "Little Mountain") at the waterfront. This is a little more comfortable way to get to Vung Tau rather than taking the bus. It's a little more expensive at 200,000 VNĐ/person (US$10). On the weekends, be sure to get your tickets at least a day early. You will be lucky to get a ticket if you wait till the day of.
SCAM ALERT
At the ticket counter in Saigon, the cashier sometimes does not want to sell you the return ticket, instead recommending that you buy it when you get to Vung Tau. Once there, the lady at the counter will pretend that all the tickets are gone, and you will be immediately approached by local men willing to sell the tickets with a 100% surcharge, possibly with the complicity of the Ticket counters employees. Make sure you buy the return ticket in Saigon, or accept to be considered as an ATM to the hucksters.
Petro Express

,

Hàm Nghi Road, District 1, Ho Chi Minh City

.

250,000 VNĐ

.  edit

Greenlines

,

Hàm Nghi Road, District 1, Ho Chi Minh City

.

250,000 VNĐ

.  edit

Vina Express

,

Hàm Nghi Road, District 1, Ho Chi Minh City

.

200,000 VNĐ

.  edit
Essential information: Price: 10 USD/ 1 ticket/ 1 pax (adult) and 5 USD/ child (age 6-11, height under 1.4m) Duration: 75 minutes Depart at: Bach Dang pier in Saigon, District 1. Not far from the Majestic hotel (100mtrs) Land in Cầu Đá Port, Ben Cau Da, Ha Long Street, Vung Tau
As of February 2014, the operations of the hydrofoils have been suspended indefinitely following a fire in January on one of the hydrofoils.
By CAR
If you want to get in Vung Tau from Ho Chi Minh airport, you should arrange private transfer. It's faster and cheaper if you take the hydrofoil, but the cost of taxis will actually make having your own car a better idea. Plus having a driver will be helpful in getting where you want once you get there. You can get a car and driver for a little under $100
Get around
By taxi
Taxis are rather expensive in Vũng Tàu. Prices are 30% higher than Saigon companies, especially along the beaches. Major companies are Vietnam Airport Transfer Gili Taxi, Petro Taxi, Vinasun, and Mai Linh. Petro Taxi by the hydrofoil port will charge five times more than a VinaSun taxi.
By motorbike
As an ordinary Vietnam urban area, Vũng Tàu has plenty of xe ôm (motorbike) drivers who are professional (and unfortunately seek out foreigners). Tourists coming to Vũng Tàu may find out that traffic is slower here, especially during the week. As of December 15th, 2007 all riders in Vietnam are now required to wear helmets an this is strongly enforced. As such, the driver should supply you with a helmet. If he doesn't – find another one, as you'll be the one stuck with the fine. Remember : always agree on a price before you set off.
By double-bike
Xe đạp đôi or double-bike (tandem bicycle) has been popular among youth and teenagers of Vung Tau. You can see groups of at least four riding along the windy and green streets and along the coast. A standard double-bike can carry 3 people in which 2 take the ride. You can rent a double bike at the Bãi Trước (Front Beach) Area beside Nhà thiếu nhi (Children Cultural House) or on pavements along the Bãi Sau (Back Beach) near hotels area.
Walking
Vũng Tàu is rather small in size, so don't hesitate to take a walk. Recommended ways are : Bacu street (the city's downtown), Đồ Chiểu Street (food center), Trưng Trắc and Trưng Nhị Square, Công viên Bãi trước (Front Beach park) and pavements along the coastline. The only drawback; foreigners are constantly sought after by motorbike drivers, especially if walking alone.
See
Vũng Tàu Lighthouse

,

On top of Small Mountain

.

First built in 1907 on the lower peak of Small Mount, it burned kerosene in its lamp. In 1911, it was rebuilt to 3 meters in diameter and 18 meters in height, and moved to the higher peak where it stands today.The Vũng Tàu Lighthouse projects light as far as 35 sea miles (64.75 km) and is equipped with telescopes to follow and direct ships at sea.

 edit
Next to the platform, 4 old French cannons (about 10m long and weighing several tons) were once used to defend the area from naval attacks.
The lighthouse affords a panoramic view of the whole of Vung Tau and is a really interesting site. No ticket is needed, but tourists are required to pay 4,000 VND per visit.
Đình Thần Thắng Tam (Thắng Tam Temple)

, Thắng Tam Ward, Vung Tau City (

From the Front Beach, follow Truong Cong Dinh St. to Tran Hung Dao Park. Here take Hoang Hoa Tham Street to Thang Tam

).

Aka Thang Tam's Local Gods Communal House, is a special feature in Vũng Tàu. According to legend, it was built in the Minh Mạng dynasty (1820-1840) as a place to worship the three men who set up the 3 villages of Thắng in Vũng Tàu. Visit this site to discover the story of the three men who led three villages's inhabitants to Vũng Tàu and started a new way of life. The architecture is particularly interesting around the Tam Quan gate, the sanctum, the public commune, the meeting room and the scene for military opera stage that is skillfully engraved.

 edit
The sanctum is roofed with yin-yang tiles and is in the shape of "a couple of dragons joking upon the moon" and the pillars are engraved wit the shapes of dragons. This commune stores twelve pieces of sanction of Nguyễn dynasty.
On the right of Thắng Tam commune is the Whale tomb where there is a set of great bones of whales picked up from 100 years ago and on the left is Ngũ Hành Temple (5 elements of the space: metal, wood, water, fire and the earth).
Đài Liệt Sĩ (Martyr's Memorial)

,

Lê Hồng Phong Street

.

A stone obelisk on a hill-top, located on the way to the sea, the Martyr's Memorial hill is said to be the biggest traffic circle in Indochina. A cool hang-out place for lovers.

 
Statue of Jesus Christ with outstretched arms

,

On top of Small Mountain

.

The enormous 28m figure of Jesus gazing across the East Sea with outstretched arms is located at the southern end of Small mountain. Built in 1971, this Giant Jesus rests on a 10m high platform. The interior of the statue is hollow and contains a spiral staircase of 129 steps, ascending from the foot of the statue to its neck. The two shoulders of the figure are balconies, each able to accommodate up to six people, which offer a splendid view of the surrounding landscape. This is the largest sculpture in the Southern Vietnam. Recent construction of a pathway has made the 30-minute hike up the mountain more pleasant and the panoramic view from various vista points along the way is magnificent. Definitely a must do!

 
Beautiful pagodas

,

Small Mount top

.

Niết Bàn Tịnh Xá and Thích Ca Phật Đài are most popular among the pagodas and temples in Vũng Tàu.

 
Bạch Dinh (Villa Blanche)

,

Along Trần Phú Street

.

Built by the French (1898-1916) as a summer holiday house of French Governor General Paul Doumer. The building was named Villa Blanche after his favorite daughter. The name Villa Blanche or Bach Dinh coincides its appearance, for that season, the local people call it Bạch Dinh (White palace). Later, some Indochina-French Governors used this summer house occasionally so it's also called "Villa du Gouverneur" (Dinh Toan Quyen). Both Ngo Dinh Diem and Nguyen Van Thieu used it as well for recreation and holiday. It made the name Dinh Ong Thuong (Palace of Lord appear). Villa Blanche is located on the slop of Big Mountain, along Tran Phu St., at 50m above sea level. The outside walls were decorated with beading and the Hellenic statues. This was also the location where the French colonialists placed Thanh Thai Kin under house arrest. He belonged to the last feudalistic dynasty in Vietnam and fought against the French before exiling him to Reunion Island off the coast of Africa (1909-1910). From its balcony there's a panoramic view of Front Beach and opposite the Villa at the foot of that mountain is Hai Nguu islet with a stone rock shaped like a water buffalo wallowing in water. Next to Hai Nguu at the seaside was the helicopter yard. Today Villa Blanche exhibits hundreds of antiques collected from Cau Islet-Con Dao and is the culture destination attracts hundreds of tourists every day.

 
Do
Hashing
Vung Tau Hash House Harriers

(

VTH3

),

c/- Offshore Bar 1

(

behind Rex Hotel, Front Beach

).

Sundays 2 pm

. A great way to meet people from many different nationalities whilst also seeing more of Vung Tau and the surrounding areas as far as Ba Ria, Nui Dinh, Long Hai and Long Son island "up close and personal" is to join the local Hash House Harriers chapter (aka "kennel") by turning up at the Offshore Bar 1 beer garden any Sunday at 2 pm. Wear loose fitting shorts or trousers and shirt and sturdy shoes (trainers are fine, but sandals, flip flops, etc are not suitable for the sometimes stony and/or hilly countryside you'll be walking and/or running in). Run fees mid-2014 are 120kVND males, 80kVND females and students, 50kVND children 5-16 – and 20k VND lower for "local runs" when bus hire is not required. Free beer, water, soft drinks and occasionally snacks after the run, but please bring a bottle of water with you for the run itself. Email [email protected] or use "Contact VTH3" page on website http://www.vungtauhash.com for more details (although you should find the answers to most of your questions on one or more of the website's 25+ pages). 
Swimming
Seaside status makes Vung Tau a nearby paradise for Saigonners. However, for well-travelled foreigners, expect a bit less. The beach is not all too attractive with litter lining the coast, and most of the sandy eastern beach has signage about dangerous swimming. There are four beaches in the city center located in different positions.
Bãi Trước (Front Beach) – Located on the center of Vung Tau and stands between Big and Small Mount. Restaurants, kiosks, and hotels are close to the beach. Front Beach is connected through a small park called Front Beach Park. As this lays on the tourist center of the city, most people come here to visit the park and view the sunset.
Bãi Sau (Back Beach) – Bãi Sau aka "Thùy Vân Beach" is the only standard beach for tourism in Vung Tau. It is 3 kilometer long and streches from the Small Mount to Paradise Park. All beaches here are free although you may cross some "water park" to get to the beach. There are services for keeping your belongings, usually 15,000 VND each person. Umbrella is 30,000 VND, chair 25,000 VND. Fresh water bathe costs 8,000 VND. Sea parachute with canoeing available all day.
Bãi Dứa (Pineapple Beach)- Small beach located along Hạ Long street, by Small Mount.
Bãi Dâu (Mulberry Beach)- Small beach located on the western side of Big Mount.
Bãi Dứa and Bãi Dâu are actually beaches along Mountains, thus you must go downstairs to get to the waterfront. There's less sand and no safeguard.
Climb
Vung Tau's landscape is suitable for climbing mountains, few of the hikes in Vung Tau are
Hike to the Lighthouse in the little mountain. The entrance is at in Phan Chu Trinh street, about 1 km from the beach.
Hike to the Jesus statue in the little mountain. This is a very nice short hike.
Hike to the big mountain. The trail starts in Tran Hung Dao street. The top is very flat, and there are couple restaurants on top.
There is also a cable car to the top of the big mountain where there is a small amusement park. Pricey at 300,000 VND a ticket for the cable car ride and entrance to the park.
Other
Riding double-bikes

.

20,000 VNĐ / hour

.  
See greyhound racing

.

60,000 VNĐ

.  
Buy
Where to buy
Chợ Vũng Tàu (Vũng Tàu Market), new central market built in 1985. Vietnamese day meals start with market. Goods in markets are cheaper and fresher than in shops and that's why a market is very familiar with every Vietnamese, esp. housewives.
What to buy
Handicrafts are ample at Trung Vuong Square and are ideal as souvenirs.
ATMs
Almost all banks' ATMs are available in Vung Tau. Most of them are located in commercial roads such as Lê Hồng Phong, Ba Cu and Trưng Vương Square.
Vietcombank

,

27 Trần Hưng Đạo (main office), 8 Thùy Vân (Sammy Hotel), 143 Thùy Vân, Rex Hotel, 8 Hoàng Diệu (Petro Tower)

.  

Dong A Bank

,

207 Lê Hồng Phong (in front of Vung Tau Post office), 120 Hạ Long (in front of the Hydrofoil Ferry Port), 34 Hoàng Hoa Thám, 155 Nguyễn Thái Học (in front of Coop Mart Vung Tau).

.  

ACB

,

3A Trần Hưng Đạo, 09 Hạ Long (Hydrofoil Port), 205 Nguyễn Văn Trỗi.

. 

Agribank

,

103 Nam Kỳ Khởi Nghĩa

.  

Sacombank

,

67A Lê Hồng Phong

.  

BIDV

,

24 Trần Hưng Đạo, Vung Tau Post Office, 72 Trần Hưng Đạo.

.  
Visa and Mastercard are also accepted with a minimum fee of 50,000 VNĐ to 70,000 VNĐ for each withdraw.
Eat
Fast Food Restaurants
Rodstarz Fast Food

,

30 Quang Trung, 1, & 244 Thống Nhất, Phường 8

, ☎

84 94 711 01 92

, [3].

6:00am-10:00pm

. Rodstarz is a fast food restaurant located in Vung Tau Vietnam. The chain of restaurants uses local produce and the freshest ingredients. This restaurant offers a variety of Western dishes with a slight Asian twist. The menu includes hamburgers, French fries, spaghetti, fried chicken and more. In addition, the restaurant is located right across from the beach so guests can enjoy the amazing and beautiful view of the shore. 244 Thống Nhất New Location Phone: 84 0643 515757 The newest location for Rodstarz Fast Food is located in the heart of Vung Tau. The restaurant carries an expanded menu ranging from 100% Australian Beef Burgers, Cheese Burgers, Shrimp Burgers, Burritos, Pork Kabobs, Fried Squid Rings, Waffle Dogs, Ice Cream, Beer, and much much more.  
Banh Khot is Vung Tau's signature meal, it is an all breakfast meal which includes greens and noodles.
Bánh khọt
Gốc Vú Sữa

,

14 Nguyễn Trường Tộ

, ☎

3523465

.

6:00am – 0:00am

.

An ideal place to enjoy your breakfast is at "Bánh khọt". The restaurant is always crowded on weekends.

40,000 VND

.  
Bà Hai's small restaurant

,

42 Trần Đồng Street

, ☎

(064)3531255 – 0907303836

.

6:30am – 11:30am

.

18,000 – 20,000 VND

.  
A small bánh khọt restaurant run by a family. Not all tourists know it due to its location in a busy street but they find tastier fish sauce (nước mắm).
Restaurants
Palace Hotel Restaurant

,

1 Nguyen Trai Str., Ward 1, Vung Tau city

, ☎

+8464.3856411

, [4].

8.00am – 10.00 pm

. *

Quán 95

,

36 Trần Hưng Đạo

, ☎

856394

.

8:00am – 11pm

. 
Well-known midrange restaurant for Vietnamese meals and variety of seafood. Tiger Beer and Pilsner Urquell available.
Lan Rừng

,

Trần Hưng Đạo Park

, ☎

856394

.

8:00am – 11pm

.  
Well-designed landscape
Beach Club

,

08 Thuy Van Street

, ☎

+8464.3550909

.

Best coctail bar on the back beach. There's everything from European beers, ending large assortment of alcohol from all around the world. Russian professional bartenders and hookah.

From 25,000 VND

.  
Vườn Bàng

,

37/4 Nguyễn Thái Học

, ☎

570607

.

8:00am – 11pm

.  
Largest indoor restaurant, ideal place for parties. Special food include ssashlyk (Russian fried pork) and Russian salad.
Hotpot restaurants

, ☎

856394

.

all day till 11pm

.
An area of four pavement restaurant beside each other. Come here to enjoy the Vietnamese hotpot in different styles. Hotpot is a must in every Vietnamese parties and group meetings (with 3 people and more). Beer is encouraged.
NINE Cafe – Restaurant – Bakery

,

9 Truong Vinh Ky

, ☎

0643511571

.

from 6am- 10pm

.

Plein Sud is closed and we reopen at a new location with a new name: NINE Cafe – Restaurant – French Bakery 9 Truong Vinh Ky – Vung Tau Open from 6.30 am to 10 pm A new place open by the former owner of Plein Sud . Open all day long from 6 am for continental breakfast , coffee , lunch and diner . You can have there a simple expresso while seating outdoor , get some food, enjoy the happy hours or buy some fresh bread ( french traditional baguette , Loaf) , or get one of those home made ice cream ( 100% natural ). Wine cellar with a large world selection . Happy Hours from 3 pm to 7 pm .

 
Mediteranean Restaurant with French and Italian Specialities .Price start at 24.000 vnd . Colonial House and tropical garden with a great view on the golf . Home made delicious Ice Cream and a very large selection of imported wines . Wood pizza oven and home baked french bread . Pizzas , BBQ , Fish , Imported Meats . Home delivery .Free Wi Fi access .
David Pizzeria

,

130 Ha Long street,

, ☎

064 385 6612

.

from 10am to 2 pm and 5pm until 11pm

.  
Italian restaurant with a wide selection of pasta, wood fired pizza, seafood and wine and Italian desserts. They also have fresh bread, coffees. Home delivery available.
Bia Tuoi

,

4 Le Loi Street ,

(

Off of the front beach near the Pacific Hotel

).

from dawn until last customer

.

Food starts at 12.000 vnd; beer 4000 vnd
A cheap beer garden frequented mostly by locals with snacks and seafood. Breakfasts too.
Grand Hotel Restaurant

,

2 Nguyen Du Str., Ward 1, Vung Tau city

, ☎

+8464.3856888

, [5].

8.00am – 10.00 pm

. *

Nine Cafe

,

9 Truong Vinh Ky

, ☎

0643 511 571

.

From 6AM

.

A restaurant, a coffee shop, ice cream delicatessen, and a french bakery baked the old way in a wood oven. You can stop here to enjoyed a coffee, buy some bread or home made chocolate, have a sandwich, or have a diner. Happy hours 3PM-7PM.
Ganh Hao restaurant

,

03 Trần Phú, P.5,Vũng Tàu

, ☎

+8464.3550909

.

This is a lovely restaurant by the sea. High quality fresh seafood.

From 45,000 VND

. 
The Great Aussie Pie Shop

(

Pie Shop

),

144 Ha Long Street Vung Tau

(

Opposite the Ferry Terminal

), ☎

0643 521984

.

7am-10pm

.

The popular Pie Shop is home to fabulous Australian beef and chicken pies. Cold beer and soft drink with a terrific view of Vung Tau Bay.

 
KOZAK

(

restaurant

),

06-07 Nguyen Tri Phuong Str., Vung Tau City

, ☎

0(64) 3563776

, [6].

all day till 11pm

.

Kozak Restaurant is an Ukrainian restaurant , decorated with specific Ukrainian traditional interior. This restaurant offers traditional beverages: Ukrainian liquors, borsh, vareniki, kvas …

 
Panorama Restaurant

,

102/6 Tran Phu, Ward 5, Vung Tau city

, ☎

+8464.3553660

, [7].

8.00am – 10.00 pm

.

Located on the fourth floor at Valley Mountain Hotel, Panorama Restaurant has the opening space architecture, serves diners tasty dishes while they blending themselves to peaceful natural scene.

from 45,000VND

.  
Drink
NINE Cafe

,

9 Truong Vinh Ky

, ☎

0643511571

.

6am-10pm

.

Expresso , Cappucino, Fresh juice and Home Made 100% natural French Ice Cream . Happy Hours from 3 pm to 7 pm . Indoor or outdoor .

 
Bayview Takeaway/Cafe Grill

,

144 Ha Long Street, Vung Tau

, ☎

0643 521984

.

Hamburgers,sandwiches and fish n' chips. Eat in, takeaway or home delivered. Cold beers and soft drinks, big Aussie breakfasts.

 
Panorama Restaurant

,

102/6 Tran Phu Street, Ward 5, Vung Tau City.

, ☎

+8464.3553660

.

8.00am – 10pm

.

Located at the fourth floor at Valley Mountain Hotel, Panorama Restaurant has the opening space architecture help diners enjoy tasty dishes from Europe style to Asian style while blending themselves to peaceful natural scenes.

From 45,000VND

.  
Matildas Pub

,

6 Nguyen Du, Xa Vung Tau, Vietnam

(

Located behind the Grand Hotel

), ☎

+84 933216425

, [8].

9am to late

.

A great laid back Aussie Pub. The cheapest beers/drinks in town. Very affordable meals, including breakfast. Standard beers 20,000VND, 6 beers for 100,000 vnd every day and Thursdays is half price spirits from 5pm to 9pm. Catch every AFL/NRL game live, other sports available by request. Very friendly staff and locals. An excellent place to enjoy a relaxing beer and meal.

 
Coffee
Bạch Dinh

,

Trần Phú, near Bãi Trước

.

all day till 11pm

.  

Ô Cấp

,

along Bãi Dứa

.

all day till 11pm

.  

Rin Cafe

,

241 Nguyen An Ninh

(

Near Paradise golf course

), ☎

0934763138

.

All day

.

Serves a decent cup of strong, dark, and rich aromatic coffee. Said to serve only coffees that are grown directly from Vietnam highland provinces. The coffees here are kept fresh and are grind upon ordered. Popular for to go orders among locals and tourists alike.

USD1 (12,000 dong)

. 

Saigon Icecream

,

Lý Thường Kiệt street

.

all day till 11pm

.  
Little icecream spot with soft music. Well-known for 20 years.
Sleep
Valley Mountain Hotel

(

Sleep

),

102/6 Trần Phú, Ward 5, Vung Tau city

(

Splurge

), ☎

+8464.3553660

, [9].

Located at Bai Dau, Valley Mountain Hotel is exclusively positioned where the hotel is facing the ocean as well as leans on the mountain, therefore letting the customers experience the great harmony of water and rock. Valley Mountain is hidden deep inside therefore bringing the tranquility atmosphere to customers, blending them into nature peacefully. Our hotel is not too large but designed with high standard facilities, exquisitely decorated with a contemporary style. Moreover, with the hospitality and attentive service of our staffs you will find the comfort and warmth just like home.

from 45USD

.  
Budget
Vung Tau features the largest number of inexpensive guesthouses and hotels in Vietnam. Rooms range from electric fans and communal bathrooms to air-conditioned with all the amenities. Located largely along Thùy Vân Street, in front of Bãi Sau (Back Beach) at the foot of Small Mountain. Lowest prices range from 120,000 (weekdays) to 200,000 VNĐ (weekends).
Midrange
Tháng Mười Hotel

,

151 Thùy Vân

, ☎

(064)852665

(

fax

:

(064) 859876

), [10].  
Situated in front of Bãi Sau, Tháng Mười has 92 comfortable bedrooms with cable TV, airconditioners and minibars… Just a few walks to the beach. Prices range from 300,000 VNĐ – 500,000 VNĐ.
Splurge
Mỹ Lệ Hotel

,

57 – 59 Thùy Vân

, ☎

(064)852177

([email protected]).

39 USD – 115 USD

.  edit

Palace Hotel

,

01 Nguyễn Trãi

, ☎

(064)856411

([email protected],

fax

:

(064)856878

), [11].

The 4-star Palace is located in the heart of Vung Tau.It has 94 guest rooms and provides a variety of comfortable accommodations that match a wide range of business and travelers needs. The Palace Hotel is also the ideal venu for seminars, conferences, banquet group dinners and cocktail parties. Its restaurants offer extensive a la carte menus of award-winning Vietnamese, Asian and Western cuisines. Private dining rooms are also available. The main hall can accommodate up to 800 banquet style and includes bars and coffee lounges. There is a Casino within the Hotel premises. An adjourning Bar at the Casino allows relaxation and listening pleasures to the evergreens of the '70s.

US$65 – US$165

. 

Grand Hotel

,

02 Nguyen Du Street

, ☎

(064)856888

([email protected],

fax

:

(064)856878

), [12].

In the destination of the new millennium Viet Nam, 125 km from the historic city of Saigon (Ho Chi Minh City) located in the port city of Vung Tau on the most picturesque location facing the beach is the vintage heritage hotel The Grand. With the elegance of the French architecture, the heart soothing landscape makes the Grand a distinctive place for your stay. The enchanted ambience and the most attentive personalized service will make your stay a memorable one. May it be a business trip or a week end escape from the hectic city life , we offer you the comfort and convenience with dedicated service to become your favorable home in Vung Tau.

US$65 – US$165

. 
Relax
SPA
Lys Spa

,

37 Ký Con

, ☎

(064)3543839

([email protected]).

9am tp 9pm

.

This day spa is located in the center of Vung Tau. It's a very nice day spa but have an acceptable price.

20 USD – 70 USD

.  
Get out
Long Hải Town: a seaside town in nearby Long Điền District about 20 km north of Vung Tau. The beach here is smaller but the town owns a local goddess temple called "Dinh Cô" which holds annual cultural festival called "Dinh Cô Festival". It is one of the three well-known traditional festivals in Southern Vietnam. The town also features Minh Đạm Tunnel, a former revolunary base of Viet Minh during the war-time period.
Bình Châu Hot Stream: located in Xuyên Mộc District.
Côn Đảo Islands: far-way archipelago in the southern sea. Best known for Côn Đảo Prisons, Côn Đảo National Garden. Hydrofoil Fast Ferry costs 350,000 VNĐ, set off at Côn Đảo Port (April 30 Road).
Long Sơn: for the wooden Nhà Lớn Long Sơn complex dating from the 19th century.
Stay safe
While pick pockets are not that common, theft (usually snatching of bags or purses) is becoming an increasing problem. Visitors should not carry valuables in bags and try to avoid carrying them as much as possible at night, especially in the city center or along front and back beaches. Bags or purses have been known to be snatched off bicycles and even motorbikes as well as pedestrians. This is sometimes followed by violent pushing or hitting to distract the victim and anyone who may be with them, to help the perpetrators get away. This is not as common as it is in Ho Chi Minh City, however the level of theft increases in the time leading up to the national holiday of Tet, as locals brace for the financial crunch of the holiday.
Emergency numbers
Police: 113
Fire: 114
Ambulance: 115
Hospitals
Lê Lợi Hospital

,

22 Lê Lợi Street. 832667

.

Tell the taxi "benh vien" and he'll understand.

 
Contact
High-speed Internet is available in all streets in Vung Tau. They are called in many names e.g. "Internet cafe", "Game Online" or "Chat". Pay 3000 – 4000 VNĐ/hour. Most stores provide Internet dialing cards, so it's advised that you use it to make international calls.
Use 171 and 178 with your calls: Make you domestic and international calls with 171 or 178 as following, you'll save up to 40% of bills
171 (178) + 00 + National code + Area code + Phone number. Note : This method is not available with cellphones.
Vung Tau Post Office : 45 Lê Hồng Phong.
General info service : (064) 1080.
| | |
| --- | --- |
| Country | Vietnam |
| Languages spoken | Vietnamese |
| Currency used | Viet Nam Đồng (VND) |