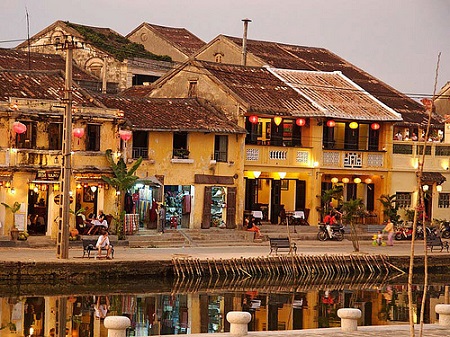 Graceful, historic Hoi An is Vietnam's most atmospheric and delightful town. Once a major port, it boasts the grand architecture and beguiling riverside setting that befits its heritage, but the 21st-century curses of traffic and pollution are almost entirely absent. Whether you've as little as a day or as long as a month in the town, it'll be time well spent.
Hoi An owes its easygoing provincial demeanour and remarkably harmonious old-town character more to luck than planning. Had the Thu Bon River not silted up in the late 19th century – so ships could no longer access the town's docks – Hoi An would doubtless be very different today. For a century, the city's allure and importance dwindled until an abrupt rise in fortunes in the 1990s, when a tourism boom transformed the local economy. Today Hoi An is once again a cosmopolitan melting pot, one of the nation's most wealthy towns, a culinary mecca and one of Vietnam's most important tourism centres.
This revival of fortunes has preserved the face of the Old Town and its incredible legacy of tottering Japanese merchant houses, Chinese temples and ancient tea warehouses – though, of course, residents and rice fields have been gradually replaced by tourist businesses. Lounge bars, boutique hotels, travel agents and a glut of tailor shops are very much part of the scene here. And yet, down by the market and over on Cam Nam Island you'll find life has changed little. Travel a few kilometres further – you'll find some superb bicycle, motorbike and boat trips – and some of central Vietnam's most enticing, bucolic scenery and beaches are within easy reach.
| | |
| --- | --- |
| Country | Vietnam |
| Languages spoken | Vietnamese |
| Currency used | Viet Nam Dong (VND) |