The seven-seat car leaved Saigon when it was still dark, but thanks to the highway, we arrived in Ben Tre about two hours later. Stop for a moment and sip a cup of coffee on the other side of Rach Mieu bridge, my friend keeps saying: "Once upon a time, Ben Tre took me half a day to wander the narrow road full of potholes, and wait for the ferry in a depressed mood". This is also one of the reasons why road to the Southwest is always crowded with people.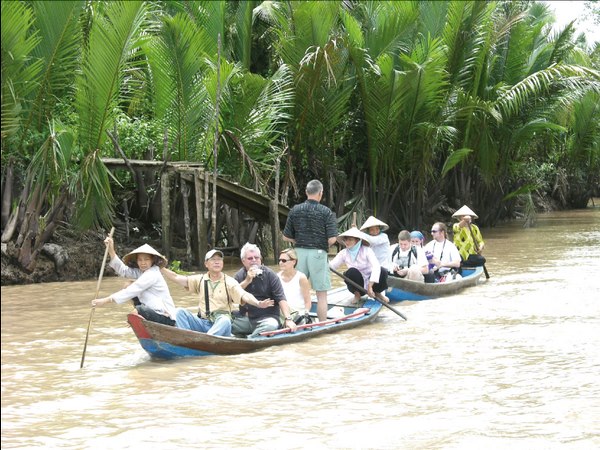 At 9 am, it was brilliantly sunny, but the atmosphere here is much more comfortable than Saigon thanks to the river and lots of trees nearby. Early 10 hours, we arrived in my friend's house. As soon as the whole crowd just finished laying our backpacks, the "owner" immediately suggests: "How about renting a motorboat to fish out and have a drink"? Well, it is thought that people in countryside have caught fish to earn a meal rather get a pleasure. It reminded us about our hard but memorable childhood, which defines our success today.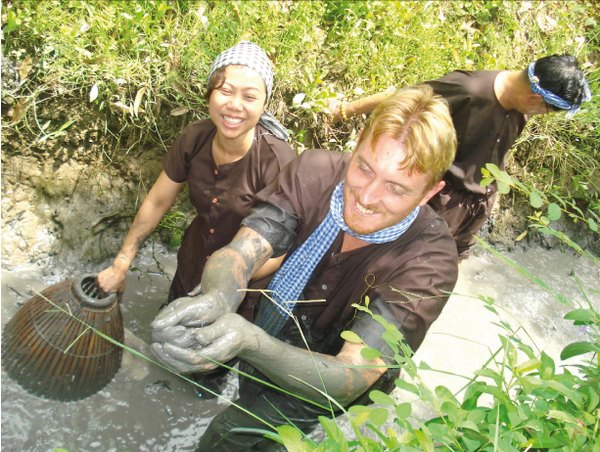 My "local" friend also said that fishing out is an attractive game to not only the youth in this area but also many visitors, including foreign tourists. At weekends, they bared their backs and caught fish in creek.
Read more: Mekong Delta 1 day tour My Tho – Ben Tre
After about 30 minutes, the motorboat drove into a dirt road, where there were small boats waiting in the coconut trees to pick us up. We chose a small boat whose rider is wearing a charming purple "ao ba ba", driving upstream to the narrower creek. Curiously, we wondered "why don't she wait for water rise, but go upstream?". My friend explained: "When water in the aquarium is drawn, the water will flow backward, then people can bail and catch fish." It turns out tide will decide when and how long people switch big boats to small boats.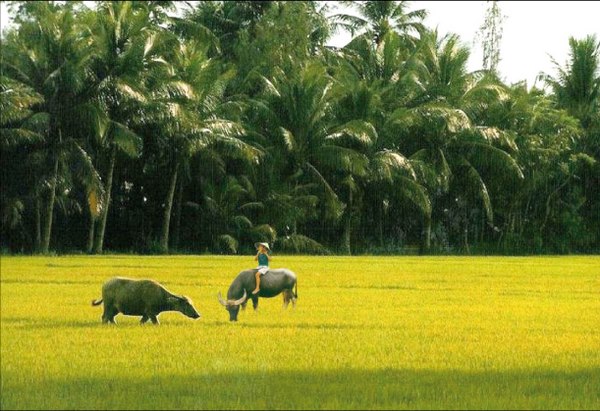 After nearly an hour of moving on the creek covered with coconut trees, we finally stop by a garden. Because the tide is still high, we spend time walking around the hillocks. This garden is surrounded by a green of fruit trees and smell of silt. There was no one else except a few of us. "It's not Saturday," said the friend. "Such an uncrowded garden allows us to catch the fish as much as we wanted while other popular places were always crowded thanks to its collaboration with travel companies… "Well, that's it.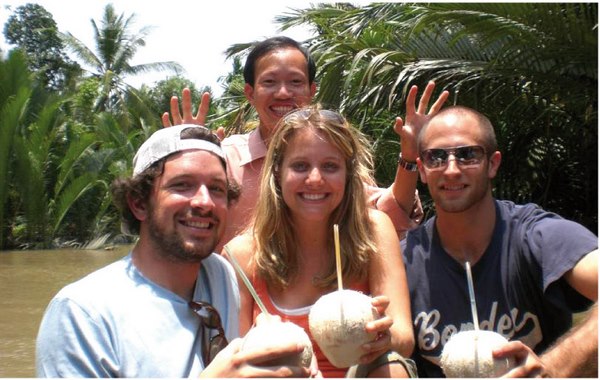 As the tide reached the lowest level thanks to a water pump, the mud layer also began to show. The creeks had the length of about 20m and the width of 1m. We all jumped down the mud, having fun and going crazy.
After a while, we caught only a few checkered fish, his friend reassured: "This creek is full of fishes but it is quite difficult for 'the amateur' to catch them. Some places dropped fish into the creek, which cannot make us feel exceited". Well, that's true. "Ah … ha … a big snakehead fish then!" the youngest of the group shouted in pleasure… As later, the mud was scraped up, clammy, effervescent, we caught lots of fishes. Finally, a girl in this garden came to get fish for lunch preparation but we do not seem to want to stop.
The meal was served directly under the longan tree, not far from where the fish were caught. It was so delicious to enjoy dishes of fish caught by ourselves. After a long struggle with mud, the whole group was starving so it is apparently the most delicious meal on earth. The owner of garden also brought out a bottle of rice wine to drink along with eating grilled snakehead fish and fried checkered fish…and some boiled vegetables. It was so delicious that all of us keep giving a compliment!
We stayed in Ben Tre one more day so that my friend could advertise the other features in his hometown. The first stop of the second day was Vam Hoi Bird Sanctuary, Ba Tri District, home to about 500,000 birds.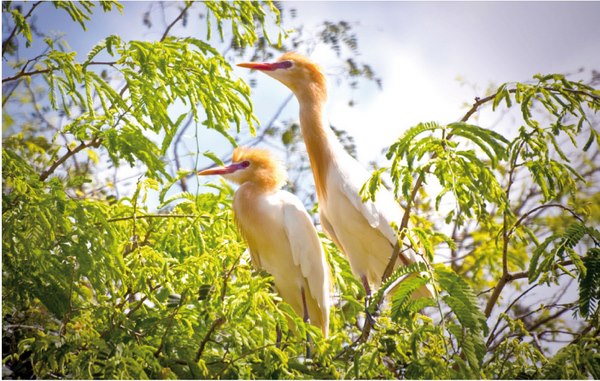 Although only 43 hecta with six towers of fire, but if you have time to stay here, you will see the beauty of the forest changes from time to time. Natural scenery in the beautiful bird yard is so beautiful; there are lots of pure white breast, prickles, pudding, rowing fat, bird flu …in the bushes. Wild animals have mink lights, foxes … Reptiles have tigers, pythons, lizards, turtles …
Noise from our footsteps on dry branches made a flock flutter upward with chattering sound, creating a strange chaotic scene. With all the attractions, Vam Ho is an attractive destination cannot be ignored.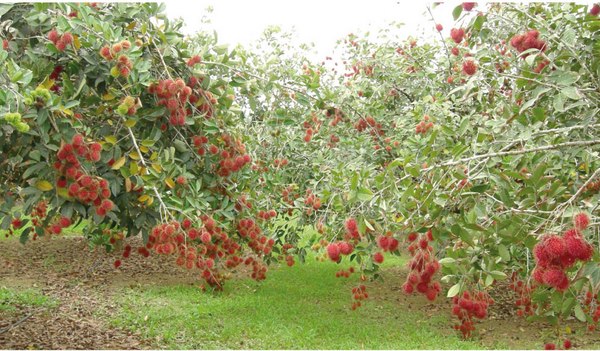 As in the fruit season, he also took us to Tan Phu garden house in Chau Thanh district to buy some fruits as gifts. The garden was wide with all kinds of fruit, the garden owners let us pick and enjoy as many as we wanted. We have tasty chicken porridge before leaving.