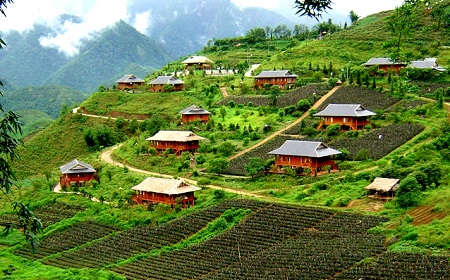 Introduction in Sapa. Located 38km from Lao Cai City, Sapa is a mountainous district of Lao Cai Province. Sapa District is very well-known with Sapa Townlet
337km (209 miles) NW of Hanoi; 37km (23 miles) E of Lao Cai
Sapa is a small market town that has been a gathering spot for many local hilltribes for nearly 200 years. Hmong and Dao people, among others, still come here to conduct trade, socialize, and attend an ephemeral "love market," where young men and women choose one another for marriage (these days, it's unlikely you'll see anything more than a staged re-creation of it). But seeing this as early as 1860, French missionaries said "Mon Dieu!" and set up camp to save souls; their stone church still stands sentinel and is well attended at the center of town. Sapa, with its mercifully cool climate, became a holiday escape for French colonists, complete with rail connection, upscale hotels, and a tourist bureau as early as 1917. The outpost was retaken by the Vietnamese in 1950, attacked and destroyed later by the French, and left in ruin, only briefly occupied by Chinese troops in 1979. The town reopened for tourism in the 1990s.
Now connected by luxury train with Hanoi, Sapa boasts good accommodations and is a great jumping-off point for trekking and eco-tours. Even a 1- or 2-day trip, bracketed by overnight train journeys from Hanoi, will give you a unique glimpse of local hilltribe culture. Trek out to nearby villages with a guide (it's actually illegal to trek without a licensed guide, and you may find yourself a very unwelcome guest in a village that does not accept tourists), or meet with the many hilltribe people who come to town to sell their wares.
The Tonkinese Alps are a feast for the eyes; hills striated by terraced rice farms in vast, green valleys are like a stairway up to Mount Fansipan, which is Southeast Asia's tallest mountain, at 3,143m (10,309 ft.). Climbing Fansipan is a multiday trip, requiring a guide and gear — best arranged through one of the tour operators listed, and only for the hearty.
Note: Bring a few layers; it can get quite chilly here, especially in the winter months.
Sapa has gotten busy, and 2004 saw nearly 70,000 visitors (up from just 20,000 in 1996). Concerns are even coming from Hanoi that the growth in tourism is unsustainable and does not benefit local people, but instead lines the pockets of slick financiers. Steps are underway to ensure that the lives and customs of people here are not devastated, and you can do your part by educating yourself about some hilltribe traditions — be very cautious around any animistic totems, ask before taking photos, be careful where your money goes, and try not to encourage a culture of begging.
Harvest Time — If you can, time your trip to Sapa right before or during rice harvesting (Sept-Nov). Rice terraces are planted at intervals, allowing farmers to reap the fields over a period of several months. During the fall season, the valley will be painted various shades of green. The colors signal to farmers when a field is ready to be harvested. Along with the vibrant green colors, the valley will be dotted with bright colors of red or indigo, as many female farmers still wear their traditional ethnic minority clothing while working the land.
 See more Sapa tours
| | |
| --- | --- |
| Country | Vietnam |
| Languages spoken | Vietnam |
| Currency used | Vietnam Dong (VND) |