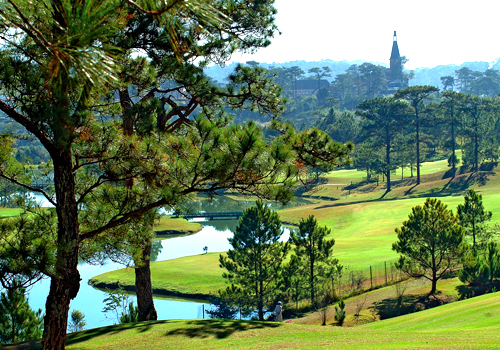 Đà Lạt is the capital of Lâm Đồng Province in Vietnam. The city is located 1,500 m (4,900 ft) above sea level on the Langbian Plateau in the southern parts of the Central Highlands region. In Vietnam, Da Lat is a popular tourist destination.
Da Lat's specific sights are pine wood (forming the name: "City of thousands of pine trees") with twisting roads andtree marigold (Vietnamese: dã quỳ) blossom in the winter. The city's temperate weather stands in contrast to Vietnam's otherwise tropical climate. Mist covering the valleys almost year-round leads to its name "City of Eternal Spring".
Da Lat is also known as an area for scientific research in the fields of biotechnology and nuclear physics.
With its year-round cool weather, Da Lat supplies temperate agriculture products for all over Vietnam, for example:cabbage and cauliflower. Its flower industry produces two typical flowers: hydrangea (Vietnamese: cẩm tú cầu) andgolden everlasting (Vietnamese: hoa bất tử). The confectionery industry offers a wide range of mứt, a kind of fruit preserve made from strawberry, mulberry, sweet potato, and rose.
Name
According to some sources, the name derives from the acronym of the Latin phrase 'Dat Aliis Laetitiam Aliis Temperiem' ("It Gives Pleasure to Some, Freshness to Others"), which the French colonial government used in their official emblem of Đà Lạt. In reality, the name Da Lat derived from the language of the local ethnic group Lạt and its original meaning is "Stream of the Lạt", and the acronym above is in fact a backcronym.
History
During the 1890s, explorers in the area (including the noted bacteriologist Alexandre Yersin, protégé of the renowned French chemist Louis Pasteur), which was then part of the French territory of Cochinchina, asked the French governor-general, Paul Doumer, to create a resort center in the highlands. The governor agreed. The original intended site for the hill station was Dankia, but Étienne Tardif, a member of the road-building expedition of 1898-99, proposed the current site instead. In 1907, the first hotel was built. Urban planning was carried out by Ernest Hébrard.[1]
The French endowed the city with villas and boulevards, and its Swiss charms remain today. Hébrard included the requisite health complex, golf course, parks, schools, and homes but no industry. The legacy of boarding schools where children from the whole of Indochina were taught by French priests, nuns, and expatriates still existed as late as 1969. In 1929, the Christian and Missionary Alliance established a school (Dalat International School) for Canadian and American children of missionaries serving in Southeast Asia. In 1965, the school moved to Bangkok, Thailand; then in 1966 to the Cameron Highlands in Malaysia and then, in June 1971, moved to its present location in Georgetown, Malaysia. There were seminaries of Jesuits (such as Pius X Pontifical College) and other orders. The elite Vietnamese National Military Academy graduated its first class of future leaders in 1950. There was an aviation school at Cam Ly Airport.
During World War II, Đà Lạt was the capital of the Federation of Indochina, from 1939 to 1945.
In the mid-1950s, the Vietnamese Scout Association established their national training grounds at Đà Lạt.
The only major involvement Da Lat had during the Vietnam War was within the 1968 Tet Offensive. Fierce battles raged from January 31 to February 9, 1968. Most of the fighting took place between the South Vietnamese MP units stationed in Đà Lạt and the Việt Cộng (VC) forces. American MPs were also involved in the fighting and suffered several KIAs during a rocket attack on their compound. Defeats and victories alternated between the two during the sporadic-yet-intense battles. However, the South Vietnamese MPs were eventually able to regain control of Đà Lạt. It is stated that around 200 VC were killed-in-action (KIAs) during this battle. Although South Vietnamese MP forces were known to have significantly fewer KIAs, their injured list grew steadily throughout the engagement because of periods of low supplies and support. What ultimately saved the South Vietnamese MPs was the fact that they held strong defensive positions throughout Đà Lạt from the beginning to the end of the battles.
Geography
Đà Lạt is located 1,500 m (4,900 ft) above sea level on the Langbian Plateau in the southern parts of the Central Highlands (in Vietnamese, Tây Nguyên). The constructed Xuan Huong Lake—measuring 5 square kilometres (1.9 sq mi)—is located in central Đà Lạt and, following repair work, the lake is completely filled as of October 2011.
Geology
Đà Lạt is a source area for pyroxene from the Australasian strewnfield.[2]
Administrative
Đà Lạt is divided into 12 wards which are numbered 1 to 12, and 4 communes: Ta Nung, Xuan Truong, Xuan Tho and Trại Hầm.[3]
Climate
Da Lat's year-round temperate weather, standing in contrast to central & southern Vietnam's otherwise-tropical climate, has led it to be nicknamed the "City of eternal spring".[4] The average temperature is 14 °C – 23 °C. The highest temperature ever in Da Lat was 29.8 °C, and the lowest was 4.3C. Mist covers the adjoining valleys almost year-round. Its temperate climate also makes it ideal for agriculture. Indeed, Da Lat is renowned for its orchids, roses, vegetables, and fruits. There are nascent wine-making and flower-growing industries in the region.
There are two separate seasons in Da Lat. The rainy season lasts from May to October, and the dry season is from November to April. The average annual precipitation is 1,770mm.[5]
[hide]

Climate data for Da Lat (1964 – 1998)
Month
Jan
Feb
Mar
Apr
May
Jun
Jul
Aug
Sep
Oct
Nov
Dec
Year
Record high °C (°F)
28.5
(83.3)
29.2
(84.6)
29.8
(85.6)
29.2
(84.6)
27.6
(81.7)
26.7
(80.1)
26.4
(79.5)
26.7
(80.1)
26.4
(79.5)
25.9
(78.6)
25.9
(78.6)
26.0
(78.8)
29.8
(85.6)
Average high °C (°F)
22.3
(72.1)
24.0
(75.2)
25.0
(77)
25.2
(77.4)
24.5
(76.1)
23.4
(74.1)
22.8
(73)
22.5
(72.5)
22.8
(73)
22.5
(72.5)
21.7
(71.1)
21.4
(70.5)
23.18
(73.71)
Average low °C (°F)
11.3
(52.3)
11.7
(53.1)
12.6
(54.7)
14.4
(57.9)
16.0
(60.8)
16.3
(61.3)
16.0
(60.8)
16.1
(61)
15.8
(60.4)
15.1
(59.2)
14.3
(57.7)
12.8
(55)
14.37
(57.85)
Record low °C (°F)
4.3
(39.7)
5.3
(41.5)
6.2
(43.2)
10.8
(51.4)
11.3
(52.3)
12.3
(54.1)
13.0
(55.4)
12.8
(55)
12.3
(54.1)
8.7
(47.7)
8.0
(46.4)
5.4
(41.7)
4.3
(39.7)
Precipitation mm (inches)
11
(0.43)
24
(0.94)
62
(2.44)
170
(6.69)
191
(7.52)
213
(8.39)
229
(9.02)
214
(8.43)
282
(11.1)
239
(9.41)
97
(3.82)
36
(1.42)
1,768
(69.61)
Avg. rainy days
2
2
5
11
18
20
23
22
23
19
10
5
160
 % humidity
82
78
77
84
87
88
90
91
90
89
85
84
85.4
Source: Địa chí Đà Lạt [6]
Architecture
The architecture of Đà Lạt is dominated by the style of the French colonial period. Đà Lạt Railway Station, built in 1938, was designed in the Art Deco architectural style by French architects Moncet and Reveron, although it incorporates the high, pointed roofs characteristic of the Cao Nguyen communal buildings of Vietnam's Central Highlands. The three gables represent an art deco version of Normandy's Trouville-Deauville Station.[7] The station's unique design—with its roofs, arching ceiling, and coloured glass windows—earned it recognition as a national historical monument in 2001.[8][9] The Dominion of Mary (French: Domaine de Marie) Church and Convent, home to Roman Catholic nuns of the Mission of Charity, were built in 1938 with a similar pointed-roof style.
Of particular note is the unconventional architecture of the Hằng Nga guesthouse, popularly known as the "Crazy House". Described as a "fairy tale house", its overall design resembles a giant banyan tree, incorporating sculptured design elements representing natural forms such as animals, mushrooms, spider webs and caves. Its architecture, consisting of complex, organic, non-rectilinear shapes, has been described as expressionist. Its creator, Vietnamese architect Dang Viet Nga (also known as Hằng Nga), who holds a PhD in architecture from Moscow State University, has acknowledged the inspiration of Catalan Spanisharchitect Antoni Gaudí in the building's design. Visitors have variously drawn parallels between the guesthouse and the works of artists such as Salvador Dalí and Walt Disney.[10][11] Since its opening in 1990, the building has gained recognition for its unique architecture, having been highlighted in numerous guidebooks and listed as one of the world's ten most "bizarre" buildings in the Chinese People's Daily.[12][13] While superficially amusing, the compound is let down by the construction debris and household refuse behind the facades, and the lack of attention to safety issues.
Most popular places
Truc Lam Monastery
The Palace of Bao Dai King
Ho Xuan Huong
Dreamlike Hill (Mong Mo Hill)
Langbiang Peak
Prenn Waterfall
Valley of Love
Dalat Cathedral (also known as "Chicken Church")
Golden Stream Lake
| | |
| --- | --- |
| Languages spoken | Vietnamese |
| Currency used | Việt Nam Đồng (VND) |