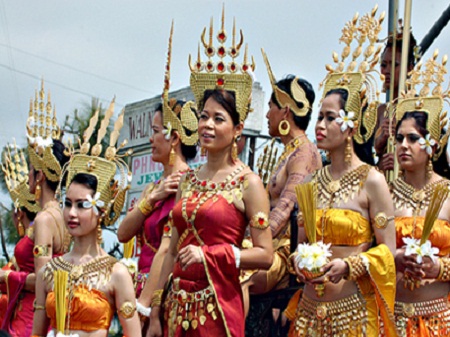 About Cambodia : Introduction
Cambodia is a country that is firmly putting its past behind to embrace the 21st century. It is emerging as a vibrant, exciting tourist travel destination, offering an opportunity to step back into ancient history, get off the beaten track into a lush yet unpredictable rural countryside and to immerse in a kind and charming culture. It is a country where crumbling colonial buildings and tuk-tuks (motorized rickshaws) are juxtaposed with 5 star boutique
hotels
and trendy restaurants and spas.Cambodia is bordered by Thailand, Laos and Vietnam and in its turbulent past, was invaded by two of its neighbors several times. It shares the powerful Mekong River with Laos and Vietnam. The river enters the country from Laos in the North, and in its southbound journey almost divides Cambodia into halves.The Mekong splits off into two at Phnom Penh, Cambodia's capital, before ending in Vietnam. One of its tributaries feeds Tonle Sap (Great Lake), the largest fresh water lake in Southeast Asia, which lies south of
Siem Reap
, the town closest to the Angkor temple complex.
The Land of SmilesKnown as the Land of Smiles, Cambodia's gentle culture is influenced by Theravada Buddhism practiced by the bulk of its 13 million ethnic Khmer who live alongside substantial minorities of Chinese, Vietnamese, Cham Muslims and hill tribes.
Angkor Wat
, the ancient temple at the heart of a sprawling, monumental complex of stone block structures in Angkor, is a testimony to the power of the Khmer kingdom, which peaked during the 11th century.At that stage, the Khmer kingdom included parts of Thailand, Laos and Vietnam. However, with the decline of the Khmer kings and in a slow weakening of power marked by incursions from the Thais, Vietnamese and later the French and Japanese, the country was slowly chipped away to its present size, which is one half of Germany.