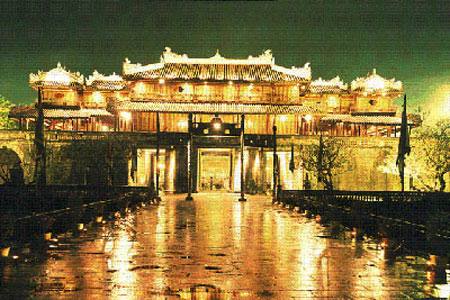 Hue (pronounced Hway) is culturally and historically significant. It was once Vietnam's Imperial City and later the country's capital under the Nguyen dynasty (1802-1945).
The Thua Thien-Hue region was a political football during hundreds of years of early Vietnamese dynastic turf wars with the Cham people in the south and the Chinese in the north. It wasn't until the late 18th century that the leaders of the Tay Son rebellion and Emperor Quang Trung, having routed the Chinese out of the north, established a capital at Hue. Later, the Nguyen dynasty leaders, beginning with powerful Gia Long, made Hue the capital that served the Vietnamese puppets of the French until the end of World War II. The first citadel and Imperial City was built by Gia Long in 1803 on a former royal site; many of the city walls still stand, battle scarred from fighting with the French as far back as 1873, and later with the Americans during the notorious Battle of Hue in 1968.
Although much of Hue — tragically, including most of Vietnam's walled Citadel and Imperial City — was decimated during wars with the French and the Americans, there's still much to see. And because of the damaged buildings, you'll want to hit the temples with a good English-speaking guide who can bring the place back to life and offer some good background (otherwise, you might see just walls and rubble).
Perhaps most captivating is the daily life on Perfume River, with its many dragon boats, houseboats, and long-tail vessels dredging for sand. You can visit many of the attractions, including the tombs of the rather flamboyant and megalomaniacal Nguyen dynasty emperors, by boat. The enjoyable town features low-slung, colorful colonial-style buildings, and strings of lights at outdoor cafes at night are like the flame for the many tourist-moths that quickly flit through here. Try to sample some of the many local cuisine specialties; you'll find fine-dining establishments that specialize in tempering the cuisine to foreign tastes (with varying degrees of success). The Trang Tien Bridge, which connects the citadel area with the new town across the Perfume River, is itself a major attraction, a lovers' lane of sorts and a national symbol. You'll see local photographers selling their services in the little riverside park on the new-town side. The bridge is lit up at night with constantly changing bulbs, and lovers stroll the promenade, taking in all of the good Technicolor glistening off the river below. Vendors line the riverside promenade and it's a good place to buy something sugary (they even have cotton candy).
You may want to plan a full-day excursion to the nearby demilitarized zone (DMZ), the beginning of the Ho Chi Minh Trail, and the underground tunnels at Vinh Moc.
| | |
| --- | --- |
| Country | Vietnam |
| Languages spoken | Vietnamese |
| Currency used | Viet Nam Dong (VND) |